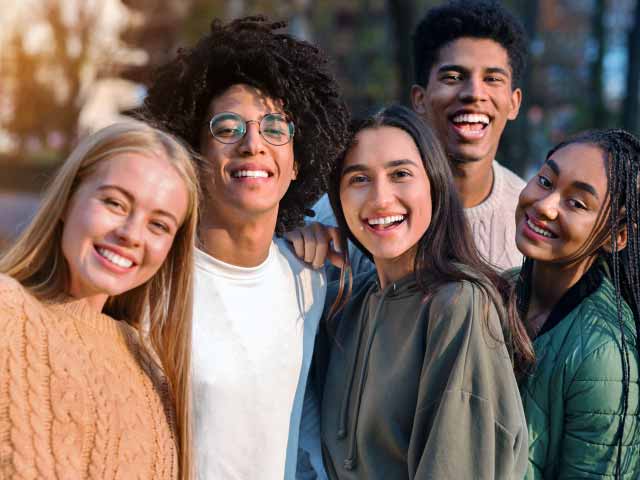 Youth comes but once in a lifetime
Youth Ministry serves youth ages sixth grade through twelfth grade. Programs include Sunday school for high school youth and confirmation for middle school youth, both offered at 10:00. There is time for fellowship each Sunday to build friendships at church.
Our high school classes study relevant topics and how the Bible can be applied to a youth's daily life situations.
The middle school students examine a three-year, in-depth Bible study for confirmation. We spend a year with the Old Testament, one year in the New Testament, and the third year studying Luther's Small Catechism. The confirmation program is an environment perfect for fostering close friend relationships. At the end of the three-year confirmation program, the eighth-grade youth are confirmed and become voting members of the church.
There are many fellowship and service opportunities for all youth throughout the year. Christ the Lord hosts events for youth on Sunday afternoons at various times during the school the year. These may include service work in the community or fellowship activities such as game days or bowling. We provide an opportunity for week long day camps during the summer. Preteen and Teen Servant Camps have youth volunteering in the community during the mornings and engaging in fellowship activities and Bible study in the afternoons. Youth are encouraged to serve as volunteers at children's programs throughout the year at church, such as Vacation Bible school and the Easter Egg Hunt.
Youth have the opportunity to participate in programs with youth from other local churches, neighboring states, and even a nationwide gathering every three years. These programs are the All Georgia Youth Gathering weekend and Affirm week-long summer camp for youth sixth through twelfth grade . The Southeastern Synod Lutheran Youth Organization (SESLYO) leadership weekend and ELCA Youth Gathering are designed for our high school students. There is something for all our youth at Christ the Lord.
The Details
* Sunday School – Sunday mornings at 10:00. Grades nine through twelve. Runs September – May.
* Confirmation – Sunday mornings 10:00. Grades six, seven and eight. Runs September – May.
* Preteen Servant Camp – One week in June, 8:30 – 4:30. for rising fifth, sixth, and seventh graders.
* Teen Servant Camp – One week in July, 8:30 – 4:30. For rising eighth through twelfth grade.
* All Georgia Youth Gathering – A weekend in January, Friday – Sunday. For sixth through twelfth grade students across the state of Georgia.
* SESLYO – A weekend in March, Friday – Sunday. For high school students across the Southeastern Synod.
* ELCA Youth Gathering – Five days during July every third year. For high school youth from across the United States. Next gathering is July 16 – 20, 2024 in New Orleans.
* AFFIRM – An annual S.E. Synod youth camp held in the summer. The next event will be June 11-16, 2023. Check out the Affirm Website

Location
Christ the Lord Lutheran Church is located at 1001 Duluth Highway (State Route 120) at McKendree Church Road in Lawrenceville, GA. We are between University Parkway (State Route 316) and Interstate 85. Our phone number is 770-963.4499.

Office Hours are Mon - Fri 9:00 a.m. to 4:00 p.m.
Worship Times
9:00 a.m. Traditional Worship Service
11:00 a.m. Contemporary Worship Service
Education and Fellowship
10:00 a.m. Adult Fellowship/Coffee Available
10:00 a.m. Sunday School Classes for all ages
10:00 a.m. Confirmation (6th ,7th and 8th grade)
Nursery is available for children birth – 4 years, 9:00 a.m. to noon